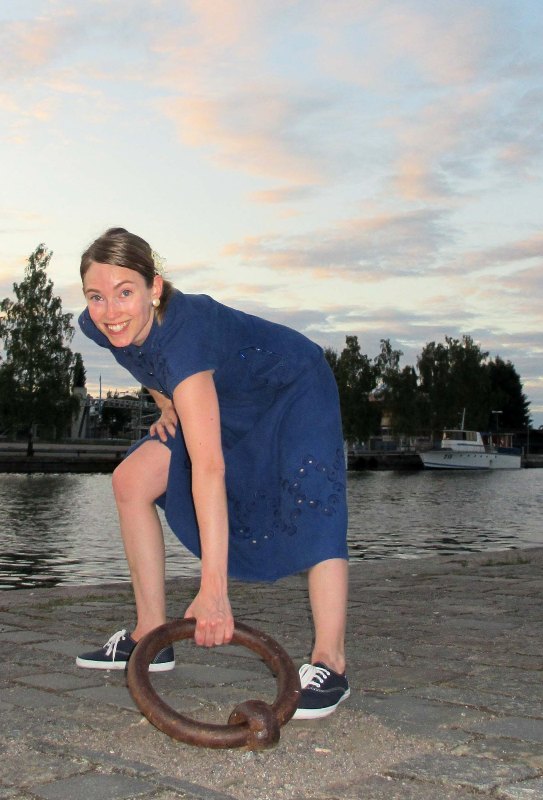 Ulla Ritamäki aloitti tanssimisen lavoilta, ja vuonna 1998 innostui swing-tansseista. Hänen suosikkiswingtanssejaan ovat Lindy Hop, Blues, Collegiate Shag, Authentic jazz, Steppi, Charleston ja Balboa, joita hän on myös opettanut. Myös kisailu, esiintymiset ja koreografioiden teko on tullut tutuksi.
Ulla on viettänyt 14 kesää Herrängin swingtanssileirillä. Taustalta löytyy sellaisia tanssirakkauksia kuin kontakti-improvisaatio, baletti ja lattarit ja argentiinalainen tango.
Tärkeintä Ullalle tanssissa on musikaalisuus sekä henkinen ja fyysinen yhteys. Paras tanssi on hänelle antautuvan intuitiivista ja rytmikkään humoristista musiikin, itsen ja toisen kuuntelua ja seuraamista, sekä improvisaatiota näiden täydellisessä harmoniassa.
Motto: Dance like nobody is watching.
* IN ENGLISH *
Ulla started dancing Finnish social dances and in the year 1998 she got into the swing dances. Her favourite swing dances are Lindy Hop, Blues, Collegiate Shag, Authentic jazz, Tap, Charleston and Balboa, which she also has been teaching. She has also competed, performed and made choreographies.
Ulla has spent 14 summers at Herräng Dance Camp. She has background from contact improvisation, ballet, latin dances and argentine tango.
Most important thing in dance for Ulla is musicality, and spiritual and physical connection. The best dance in her opinion is when you intuitively surrender to follow music, yourself and your dance partner in a rhythmical and humoristic manner, and improvise in a perfect harmony of these elements.
Her motto is: Dance like nobody is watching.